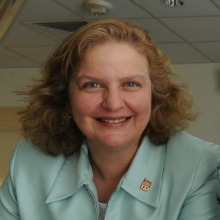 Maria Calzada, Dean
College of Humanities & Natural Sciences
Welcome to the College of Humanities and Natural Sciences at Loyola University New Orleans. Our website will give you some idea of the dynamic people and exciting programs that make our college the heart and soul of the Loyola academic experience. Let me tell you about some of the things that make me proud to be the dean of this college.
First, we have superb students. Our students have been awarded prestigious Rhodes, British Marshall, Mellon, Goldwater, and Fulbright scholarships. They have collaborated with faculty to seek cures for deadly diseases, have presented their research at international conferences, and have taken a leadership role in bringing the resources of the university to bear on the needs of the local community consistent with our Jesuit mission of service to others.
Second, our faculty is a remarkable group of scholars and teachers. Whether you are interested in religion or retroviruses, poetry or psychology, Greek or environmental studies, you will find at Loyola scholars who are on the creative edge of their fields, and are eager to invite you along on their intellectual journey. Our programs offer small class experiences, innovative courses, interdisciplinary adventures and opportunities to study abroad.
Third, and most of all, I am proud of our Jesuit-inspired commitment to educating the whole person. We get to know our students as people, and as much as we care about the skills and knowledge they take away from here, we care even more deeply about the kinds of human beings they become as they go into the world.
This is a truly exciting place to learn and grow. We invite you to come to New Orleans and see what the excitement is all about.