As a Loyola student, you have the opportunity to work alongside our talented professors to partner in collaborative research. Learn more about some recent research and projects currently underway.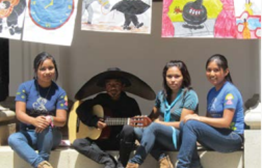 In Luis' Footsteps: A museum memorializing a "disappeared" Guatemalan author and activist receives translation assistance from Loyola students
Nathan Henne, Ph.D., associate professor of languages and cultures, has been studying the life and work of Guatemalan author and activist Luis de Lión for eight years. In 2012, the University of Arizona Press published for the first time in English de Lión's most important work, Time Commences in Xibalbá, which Henne translated and introduced.
Pages