The Yamauchi Lectures in Religion series was begun in 1985 in memory of Professor H. James Yamauchi, S.J., a celebrated former Chair of the Department of Religious Studies who taught at Loyola University New Orleans from 1956 to 1966. Father Yamauchi was known and loved for his enthusiastic knowledge of religion and his passionate communication of same to the New Orleans community.  This lecture series seeks to perpetuate his work by bringing the results of religious scholarship to a wider audience.
Spring 2015
Loyola University New Orleans' College of Humanities and Natural Sciences & the Department of Religious Studies present the Spring 2015 Yamauchi Lecture:
"Exodus, Pilgrimage, and Jubilee Solidarity: How Today's Immigration Crisis Challenges People of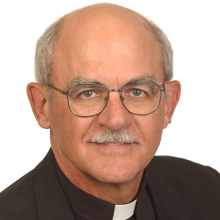 Faith"
Father Fred Kammer, S.J., J.D., Director of the Jesuit Social Research Institute, College of Social Sciences, Loyola University New Orleans
How can the plight of immigrants today be situated in the context of major events and figures in Salvation History?
Tuesday, March 24, 7pm
Reception at 6:15pm
Free, and Open to the Public
How do the immigrants' journeys and destinations reflect a long tradition of sacred pilgrimages?
Loyola University New Orleans
Audubon Room
Danna Center, 2nd floor
6363 Saint Charles Avenue
New Orleans, LA, 70118
How do the principles of Catholic social thought shape our judgments and actions in the face of  amnesia, indifference, and xenophobia?
Free parking in the West Road Garage! 
Please do not park in reserved, metered, or handicapped spaces.
About the lecturer:
Fr. Fred Kammer, S.J., J.D., is a priest, an attorney, and a member of the Southern Province of the Jesuits. He has been Director of the Jesuit Social Research Institute from March, 2009. From 2002 to 2008, he was the Provincial Superior of the province, guiding their post-Katrina recovery and service to the devastated region's poor and needy. From 1992 to 2001, he was the President/CEO of Catholic Charities USA, the nation's largest voluntary human service network. Fred has worked in a number of programs for the underprivileged, both as a lay volunteer, an attorney, an advocate, and an administrator. From 1990 to 1992, he was the Policy Advisor for Health and Welfare Issues, Department of Social Development and World Peace, U.S. Catholic Conference. Prior to that, from 1984 to 1989, he was Executive Director of Catholic Community Services of Baton Rouge, Inc. Earlier, from 1977 to 1983, he was Director of the Senior Citizens Law Project of the Atlanta Legal Aid Society. Fred is also a retreat director and author. His first book, Doing Faithjustice: An Introduction to Catholic Social Thought, was published by Paulist Press in May, 1991 (second printing, 1992; third printing, 2005). His second book, Salted with Fire: Spirituality for the Faithjustice Journey, was published in January, 1995, again by Paulist Press, and republished in 2008 by Wipf and Stock Publishers. His newest book, Faith. Works. Wonders.--An Insider's Guide to Catholic Charities, was published in September, 2009, by Wipf and Stock Publishers. This New Orleans native received his J.D. from Yale University and M. Div. from Loyola University in Chicago. He holds honorary doctorates from Fairfield University, Gonzaga University, Creighton University, Spring Hill College, and the University of San Francisco (1999).
For directions, view our campus map.
Questions? Contact the Loyola University New Orleans Department of Religious Studies at (504) 865-3943.
Past Lectures
Spring 2014, "Displaced Christianities: Mapping Post-Colonial Theology" Dr. Judith Gruber
Fall 2013, "A New Islamic Law for Muslims in the West: fiqh al-aqalliyat" Dr. Adil H. Khan (links to a chapter in Dr. Khan's book that coincides with the lecture.)
Spring 2013, "Grace: What's Love Got To Do With It?" Father Ed Vacek, S.J., PhD
Fall 2012 "Theology of Caring for a Coastal-Carnival Place, " Dr. Anne Daniell
Spring 2012 "The Amish Bernie Madoff vs. The First Amendment," Dr. Barbra Barnett
Fall 2011 "We The People: A Vision of the Church Still Unachieved," Dr. Michael Anthony Novak
Spring 2010 "Islam and the American Dream", Dr. Aaron Spevack
Fall 2010 "All in the Family: Jewish and Christian Encounters," Dr. Mari Rethelyi
Spring 2010 "Social Entrepreneurial Justice: Catholic Missionaries in the Caribbean" Rev. Michael A. Bouzigard, S.J.
Fall 2009 "Too Proud to Dig?  Peasant Humor in the Parables of Jesus," (Luke 16:1-14), Dr. Terri Bednarz, R.S.M
Spring 2009 "Maurice Blondel, Social Catholicism, & Action Française," Father Peter Bernardi, S.J.
Fall 2008 "Education: Arenas of Responsibility," Sr. Elizabeth Willems, S.S.N.D
Spring 2008 "Paul Past and Present:  Five Specific Isues," Dr. Jan Lambrecht, S.J., Ph.D.
Fall 2007 "Charisma and Credentials: Women's Leadership in America," Dr. Catherine Wessinger
Spring 2007 "A Chapter in the Life of Pope Benedict XVI," Dr. W. Jared Wicks, S.J.
Spring 2006 "Broken Levees and Broken Narratives: A Hermeneutic Engagement of Post-Katrina New Orleans," Dr. Boyd Blundell
Spring 2005 "Civil Liberties and National Security: Political Ethics in an Age of Terrorism," Dr. Kenneth Keulman
Fall 2004 "God Working in Us Without Us? A Fresh Look at Formation of Virtue," Dr. Florence Caffrey Bourg
Spring 2004 "Can Doctrine Develop? Reflections on the German Contribution," Dr. Grant Kaplan
Fall 2003 "Beyond the Dialogue of Religions: Integrating Other Traditions Into One's Own," Dr. Vernon Gregson
Spring 2003 "Just War: The Catholic Contribution to International Law," Dr. James W. Gaffney
Fall 2002 "The End of the Catholic University," Dr. Thomas A. Smith
Spring 2002 "The Assault on Kingship in the Bible: Seeds for a Revolution," Dr. Robert Gnuse
Fall 2001 "The Quest for Freedom in a Culture of Choice," Rev. Dr. Stephen J. Duffy
Spring 2001 "To Kill or Not to Kill: The Catholic Church and the Problem of the Death Penalty," Dr. E. Christian Brugger
Fall 2000 "Jesus, Mark, and the Modern Reader," Dr. Earl Richard
Spring 2000 "The Naked Woman and the Naked Self," Dr. Tiina Allik
Fall 1999 "The Emotions of Devotion in Indian Religion," Dr. Timothy C. Cahill
Spring 1999 "The Guilty Conscience of a Nation: Christian Reflections on National Guilt," Prof. Denis Janz
Spring 1998 "The Christian Art of Dying: A Response to the Assisted Suicide Movement," Rev. Dr. Peter Bernardi, S.J.
Spring 1997 "When the Millenium Comes Violently: A Comparison of Jonestown, Aum Shinrikyo, Branch Davidians, and the Montana Freeman," Dr. Cathy Wessinger
Fall 1996 "The Temperature of Hell (The Current Readings)," Dr. Thomas Smith
Spring 1996 "When Gods Get the Blues: Expressions of Melancholy in Indian and American Traditions," Dr. Guy L. Beck
Fall 1995 "The University: Its Second Millenium," Dr. Kenneth P. Keulman
Spring 1995 "Carl Jung: His Parents, Hist Wife, His Mistress, and His God," Dr. Vernon J. Gregson
Fall 1994 "To Sing a New Song: New Perspectives for Doing Old Testament Theology," Dr. Robert K. Gnuse
Spring 1994 "Encountering the Stranger: Christianity in Dialogue with the World Religions," Rev. Dr. Stephen J. Duffy
Fall 1993 "The Gnostic Gospel of Thomas: A Lost, Secret Vision of Jesus," Dr. Earl Richard
Spring 1993 "Is Muhammad a Prophet? A Christian View," Dr. Daniel P. Sheridan
Fall 1992 "Ignatius Loyola: A Mysticism of Gratitude," Dr. Gerald M. Fagin, S.J.
Spring 1992 "Patriotism: Virtue or Vice?" Dr. James W. Gaffney
Fall 1991 "Sex and Finitude: The Social Construction of Women's Experience," Dr. Tiina Allik
Spring 1991 "Perestroika and the Crises of Religion in Eastern Europe," Dr. Denis R. Janz
Fall 1990 "Women and Religious Marginality: Lessons from the New Religions on the Routinization of Women's Leadership," Dr. Catherine Wessinger
Spring 1990 "On Being a Heretic: Reflections on the Dark Side of Christian Doctrine," Dr. Thomas A. Smith
Fall 1989 "The Nuclear Age: Strategies for Survival," Dr. Kenneth Keulman
Spring 1989 "The Rich Young Ruler or the Generous Centurion: Early Christianity and Worldly Possessions," Dr. Earl Richard
Fall 1988 "Mary: Woman of the New Age," Sr. Fara Impastato
Spring 1988 "Changing Images of God over the Life Cycle: Psychoanalytic and Theological Reflections," Dr. Vernon Gregson
Fall 1987 "Christ and Krishna: Death and Dance," Dr. Daniel Sheridan
Spring 1987 "The Revolutionary Power of Christianity," Dr. Denis R. Janz
Fall 1986 "You Shall Not Steal: The Lost Imperative - Theft in Hebrew," Dr. Robert Gnuse
Spring 1986 "The Ignatian Exercises and Contemporary Christology," Dr. Gerald Fagin, S.J.
Fall 1985 "Our Hearts of Darkness: Original Sin Revisited," Dr. Stephen J. Duffy
Spring 1985 "The Church and the Economy," Dr. James W. Gaffney