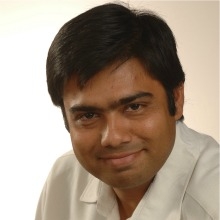 Prof. Tirthabir Biswas received his PhD from the CN Yang Institute of Theoretical Physics at Stony Brook University in New York in 2003. His thesis involved looking at different ways "extra dimensions" could play a role in high energy physics, from quantum field theory to cosmology. Thereafter he pursued post-doctoral studies at McGill and Penn State Universities where his research became more focussed in cosmology, although he still likes to explore the interplay between cosmology and other subfields of high energy physics. He has also held visiting positions at St. Cloud State University and University of Minnesota.
His research ranges on a variety of differnt topics, from looking into the earliest moments of time when the universe was incredibly hot and dense, to the epoch when ''dark energy'' took over our universe after billions of years of evolution.  Gravity has been the overarching force that has shaped our cosmic history, it is also the force that is least understood by theorists. Some of Dr. Biswas' research also involves looking beyond Einstein's theory of gravity and what it might imply for cosmology.
Over the years Dr. Biswas has published around 35 articles in international research journals, here is an up-to-date list. He has worked with numerous collaborators at various international institutions that are scattered all over the globe. He is especially interested in engaging undergraduate students into his research, you can visit the Cosmology Research Group page. Also, here is a list of his current research projects and opportunities for undergraduate research, for a more general overview of the research that Dr. Biswas has been engaged in, please visit his research home page.
Prof. Biswas has taught several courses in physics to students in the sciences and engineering, introductory and as well as advanced. He has also designed and taught physics and astronomy courses for non-science students. Besides, Loyola University, Prof. Biswas has taught at McGill University, Penn State University, University of Minnesota, and St. Cloud State University.
Loyola University has a very active Student Physics Society (SPS). As the advisor of the SPS at Loyola University Prof. Biswas has helped the students organize several outreach events for school students. Loyola students are definitely a committed and enthusiastic bunch, here is an outreach program they have participated in recently. The SPS also hosts monthly seminars especially designed for undergraduate students.
Pedagogical Interests
Peer Instruction
Course Embedded Research
Live Online Teaching with Adobe Connect
---
Selected Publications
p-adic Inflation
Neil Barnaby, Tirthabir Biswas, James M. Cline (McGill U.)
Published in JHEP 0704 (2007) 056
Non-perturbative Gravity, Hagedorn Bounce & CMB
Tirthabir Biswas, Robert Brandenberger (McGill U.), Anupam Mazumdar (NORDITA), Warren Siegel (YITP, Stony Brook). Oct 2006. 25 pp.
Published in JCAP 0712 (2007) 011
Can inflation solve the hierarchy problem?
Tirthabir Biswas, Alessio Notari (McGill U.). Nov 2005. 7 pp.
Published in Phys.Rev. D74 (2006) 043508
"Honorable Mention" in GRF Gravity Essay competition, 2005
Recent Publications
Towards singularity and ghost free theories of gravity Tirthabir Biswas (Loyola U., New Orleans), Erik Gerwick (Gottingen U.), Tomi Koivisto (Utrecht U. & Oslo U.), Anupam Mazumdar (Lancaster U. & Bohr Inst.). Published in Phys.Rev.Lett. 108 (2012) 031101
Wiggles in the cosmic microwave background radiation: echoes from non-singular cyclic-inflation Tirthabir Biswas (St. Cloud State U. & Loyola U., New Orleans), Anupam Mazumdar (Lancaster U.), Arman Shafieloo (Oxford U.). Mar 2010. 4 pp. Published in Phys.
Thermal Duality and Hagedorn Transition from p-adic Strings Tirthabir Biswas (St. Cloud State U.), Jose A.R. Cembranos (Minnesota U., Theor. Phys. Inst. & Minnesota U.), Joseph I. Kapusta (Minnesota U.)2009 Published in Phys.Rev.Lett. 104 (2010) 021601
Cosmological Bardeen-Cooper-Schrieffer condensate as dark energy Stephon Alexander (Haverford Coll.), Tirthabir Biswas, Gianluca Calcagni (Penn State U.). Jun 2009. 21 pp. Published in Phys.Rev. D81 (2010) 043511, Erratum-ibid. D81 (2010) 069902
The Hagedorn Soup and an Emergent Cyclic Universe Tirthabir Biswas (Penn State U.). Jan 2008. 15 pp. "Honorable Mention" in GRF Gravity Essay competition, 2008 e-Print: arXiv:0801.1315 [hep-th]
Degrees
Ph.D., Stony Brook University
Classes Taught
Common Curriculum courses for non-science students:
Invesitigating Nature Module: "Is Dark Energy for Real?"
Solar System (St. Cloud State University)
Introductory Physics courses:
Physics for Life Sciences I
Classical Mechanics for Science and Engineering (University of Minnesota, PennState University and McGill University)
Electromagnetism and Special theory of Relativity
Advanced Physics courses:
Classical Mechanics (300 level)
Quantum Mechanics (400 level)
Elementary Particle Physics
Areas of Expertise
Cosmology, Gravitational Physics