Inspiring awe in the structure of the universe
Physics is the science of how things work. Physicists study everything from subatomic particles, to the properties of materials used to construct electronic devices, to the laws that govern the universe on the largest scales. These endeavors require a combination of 'hands on' experiments, theory based on mathematical laws and models, and computation often used to bring the theory and experiment together. The boundaries between disciplines such and chemistry, physics and biology are inherently fuzzy and interdisciplinary fields such as biophysics, geophysics and chemical physics are at the forefront of much of today's research.
Academics
The Department of Physics offers Bachelor of Science degrees in physics, pre-engineering, pre-health physics and liberal arts physics. Scholarships are available to Physics students based on their academic achievement and/or financial need. For a complete list of Physics scholarships click here. Learn more about our programs of study »
Faculty Success
As part of activities marking the centennial of the publication of Albert Einstein's groundbreaking work in General Relativity, the American Physical Society has put together a short list of the landmark papers published in APS journals these past one hundred years. Among the works authored by celebrated physicists such as Einstein himself, Stephen Hawking, Robert Oppenheimer, Roger Penrose etc. is a paper by our own Carl Brans (coauthored with Robert Dicke).
---
See all Successes
Student Success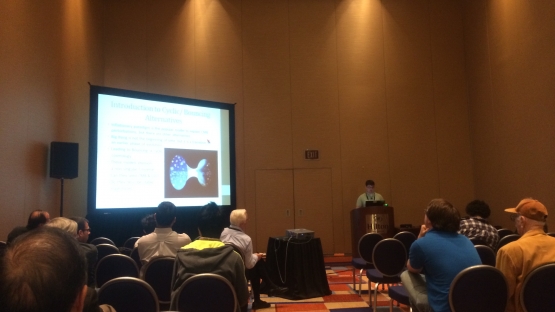 Loyola Physics students, Richard Bustos, Riley Mayes and Thomas Slack, recently participated and presented in the annual April Meeting organized by the American Physical Society (APS), the umbrella physics organization in the country.  Both Riley Mayes and Thomas Slack were selected to present talks in the research panels along with world renowned physicists across the globe, a rare achievement for undergraduate students. Richard Bustos made a poster presentation.
---
See all Successes