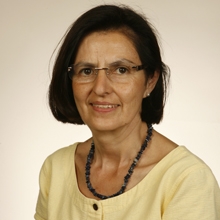 A native of Bolivia, Dr. Salmón has been on the Department of Languages and Literatures faculty since 1986. She specializes in Latin American Literature and culture. She has written many articles on Andean and Central American literature and has published the following books: El espejo indígena (1997), Co-ed with Guillermo Delgado, Identidad, ciudadanía y participación popular desde la colonia al siglo XX (2003) and an edited volume, Construcción y poética del imaginario boliviano (2005). She has read scores of papers at regional and international meetings and delivered numerous lectures. She teaches interdisciplinary courses in Spanish American culture and literature (The Mexican Revolution in Film and Fiction). She has been recognized for her excellence in teaching by the Student Alumni Association in 1994. She has served as Chair of the Latin American Studies Committee and as Chair of the Department of Languages and Cultures from 1996 to 1999.
Recent Publications
"Prólogo" to Zizek, Slavoj. Bienvenidos a tiempos interesantes. La Paz: Vicepresidencia del Estado Plurinacional de Bolivia, 2011.
"La historiografía de los pueblos indígenas y la creación del indianismo en Bolivia" Historia Debate History Under Debate. Tomo III Historiografia Global, 2010. 433-440.
"La literatura indigenista en Bolivia: ¿Quién incluye a quién? AHILA Crisis y Problemas en el Mundo Atlantico, documento "Simposio F-14, (2009) 24-31. CD-Rom.
"Una historia del pensamiento indianista Ukhamawa Jakawisaxa" Revista de Indias, 2008, vol. LXVIII, núm. 244, págs. 115-138.
Classes Taught
First Year Spanish I
Second Year Spanish I
Introduction to Hispanic Literature
Spanish American Regional Literature
Latin American Thought
Andean Literature
Areas of Expertise
Latin American Literature and Culture, Andean and Central American Literature