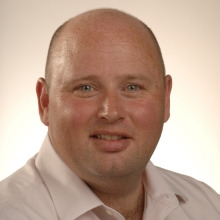 Justin Nystrom has taught at Loyola University New Orleans since 2009, and has taught previously at the University of Mississippi, University of North Carolina at Greensboro, and Virginia Tech. He received his PhD in American History from the University of Georgia in 2004. At Loyola, Nystrom teaches courses on Civil War and Reconstruction, the New South, New Orleans History, Historiography, and an interdisciplinary First Year Seminar. His History 404, "Documentary and Oral History," is a required course in Loyola's new Digital Filmmaking major.
Dr. Nystrom writes and makes films predominantly about New Orleans. His first book, New Orleans after the Civil War: Race, Politics, and a New Birth of Freedom (Johns Hopkins, 2010) explores the lives of New Orleanians as they try to piece together their lives in an age of great political and social upheaval. His forthcoming work, Creole Italian: How Sicilian Immigrants Transformed the Culture of America's Most Interesting Food Town explores the immigrant experience through the business of food by tracing Sicilian immigrants from their first significant arrival in New Orleans with the citrus trade in the 1830s through the present.
In 2012, Nystrom founded the History Department's Documentary and Oral History Studio. Since that time it has become a vehicle for both student and faculty research, an example of which is a collaborative work between Nystrom and his students in recording the stories of dockworkers associated with the International Longshoreman's Association Local 3000. This project resulted in a short film and essay in the online journal Southern Spaces. 
Since 2012, Nystrom has also collaborated with veteran journalist and newspaper publisher Jack Davis to document the emergence of contemporary New Orleans in the 1970s as part of the Making Modern New Orleans project. With over thirty hours of interviews to date, Nystrom and Davis have interviewed figures as diverse as Mayor Moon Landrieu, Xavier President Norman Francis, the restaurateur Ella Brennan, and preservationist Roulhac Toledano. 
Recent Publications
New Orleans after the Civil War: Race, Politics, and a New Birth of Freedom (Johns Hopkins, 2010)
Degrees
Ph.D., University of Georgia, 2004; M.A., University of Georgia, 2000; B.A., Kennesaw State University, 1994
Classes Taught
History of New Orleans
Civil War and Reconstruction
First Year Seminar
Documentary and Oral History
Areas of Expertise
Southern History, Civil War, and Reconstruction