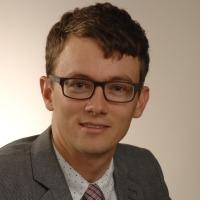 Rian Thum began his academic career in archaeology, working on projects in Syria, Romania, and China. After a short stint as an archaeologist for the US Forest Service, Thum undertook his PhD work in Harvard's Inner Asian and Altaic Studies program, focusing on the history of the Uyghur people of what is now the People's Republic of China. In his book, The Sacred Routes of Uyghur History (Harvard University Press, 2014), Thum argues that the Uyghurs - and their place in China today - can only be understood in the light of longstanding traditions of local pilgrimage and manuscript culture.  The study uses manuscripts in Chaghatay and Persian, contemporary Uyghur novels, graffiti, and ethnographic fieldwork to uncover a complex of historical practices that offer new perspectives on what history is and how it works.  Thum's research interests include historical anthropology, mobility, orality and writing, historiography, the history of money, and the place of non-Han peoples in China.​
Dr. Thum also tweets news from English, Uyghur, and Chinese sources as @rianthum
Recent Publications
The Sacred Routes of Uyghur History. Harvard University Press, 2014.
"China in Islam: Turki views from the 19th-20th centuries." Cross-currents.
"Modular History: Identity Maintenance before Uyghur Nationalism." Journal of Asian Studies, August 2012.
"Beyond Resistance and Nationalism: Local History and the Case of Afaq Khoja." Central Asian Survey, September 2012.
Degrees
Ph.D., Harvard University, 2010; B.A., University of Missouri, 2000
Classes Taught
Global History I
Chinese History I
Modern China
Rebellion and Revolution in China
Islam in China, China in Islam
History's Anthropology
Money as Meaning
Games, Fictions, and Power in China