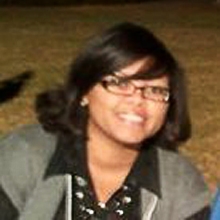 Dr. Trimiko Melancon earned her B.A. in English and her M.A. and Ph.D. in African American Studies. Her teaching and scholarly interests lie primarily in African American and American literary and cultural studies; black feminist theories and criticism; critical race, gender, and sexuality studies; African American and Black German studies; and race, media, and digital/cultural production. 
An inaugural visiting scholar and fellow at the Anna Julia Cooper Project on Gender, Race, and Politics in the South at Tulane University and the James Weldon Johnson Institute for Advanced Interdisciplinary Studies at Emory University, Professor Melancon has held numerous distinguished positions: as the J. William Fulbright Scholar of American Literature and American Studies in Berlin, Germany, a Mellon Mays University Fellow, a Frederick Douglass Teaching Scholar, and a Woodrow Wilson National Foundation Fellow. She has also received other prestigious awards, grants, and fellowships that have facilitated the continued support of her interdisciplinary research and teaching from the Andrew W. Mellon, Nellie Mae, Ford, and Ruth Landes/Reed Foundations, as well as the Social Science Research Council and Fulbright Commission. 
She is the author of Unbought and Unbossed: Transgressive Black Women, Sexuality, and Representation (Temple University Press, 2014), as well as is co-editor of Black Female Sexualities (Rutgers University Press, 2015). Her publications also appear in leading journals in her interdisciplinary fields of expertise: African American Review, Callaloo, and the Journal of Popular Culture, as well as Reconstruction, among other venues. To learn more about her work, visit her website: www.trimikomelancon.com.
Degrees
Ph.D., University of Massachusetts Amherst; M.A., University of Massachusetts Amherst; B.A. Xavier University of Louisiana
Classes Taught
Black Female Sexualities
Studies in Technoculture: Gender, Sexuality, and Race
Race, Media, and Culture
Introduction to African American Literature
African American Literature since 1900
American Literature since 1900
Great Figures: Toni Morrison
Writing about Literature: Texts and Textuality
Writing about Texts
Representations of Black Women in Literature
Race, Identity, and Nation