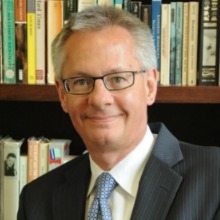 Marc Manganaro, Ph.D., assumed the position of Provost and Vice President for Academic Affairs at Loyola University New Orleans on July 1, 2012. Prior to his appointment as provost, Manganaro served as the dean of the College of Arts and Sciences at Gonzaga University from 2007 to 2012 and was also professor of English.
Prior to his deanship at Gonzaga, for eighteen years Manganaro was a faculty member in the English department, and later served in several administrative positions, at Rutgers University in New Brunswick, New Jersey. From 2004 to 2007 he was dean of Academic Affairs at Douglass College, the women's college of Rutgers, and from 2002 to 2004 served as associate dean of University College, the college for adult and non-traditional students. He also was chair of the Rutgers-New Brunswick Faculty Council, an elected position, in 1998-1999. Prior to his faculty appointment at Rutgers, from 1985 to 1989 he was assistant professor of English at the University of Hawaii-Manoa.
Manganaro is a scholar and teacher in modern literature in English, with specializations in modernist literature and in interdisciplinary work between literary study and cultural anthropology, folklore and myth. He has published several books in these areas, including "Culture, 1922: The Emergence of a Concept," and the edited collection "Modernist Anthropology: From Field-Work to Text," both published by Princeton University Press. He is a past recipient of a National Endowment for the Humanities fellowship.
Born and reared in Omaha, Neb., Manganaro earned a bachelor's degree in English from the University of Nebraska at Omaha in 1977, his master's from San Francisco State University in 1979, and a doctorate from the University of North Carolina at Chapel Hill in 1985. He is married to freelance editor and cookbook author Nicole Lokach Manganaro and has five children.