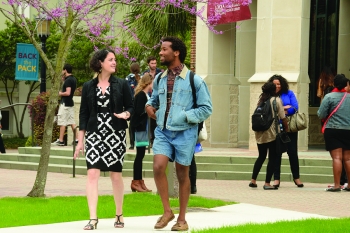 Loyola University New Orleans English professor and human trafficking expert Laura Murphy, Ph.D., has won an international award for her outstanding African literary studies work culminating in her book, "Metaphor and the Slave Trade in West African Literature." Murphy received the inaugural African Literature Association First Book Award last month. The prestigious accolade comes on the heels of Murphy's newest book on human trafficking, "Survivors of Slavery: Modern-Day Slave Narratives," which was just released this spring.
Murphy's new book aims to bring a strong fact to light: that slavery is not a crime confined to the far reaches of history. In fact, according to her new book, slavery is an injustice that continues to entrap 27 million people across the globe. Murphy offers nearly 40 survivor narratives from Cambodia, Ghana, Lebanon, Macedonia, Mexico, Russia, Thailand, Ukraine and the U.S., detailing the horrors of a system that forces people to work without pay and against their will, under the threat of violence, with little or no means of escape.
"As awareness of modern slavery explodes, the least heard but most important voices we need to hear belong to slavery survivors," Kevin Bales, co-founder of Free the Slaves, said in praise of the book.
Through storytelling and the firsthand testimony, Murphy's book shapes a 21st century narrative of slavery and human trafficking that many incorrectly believe died with the end of slavery in the Americas. Organized around such issues as the need for work, the punishment of defiance, and the move toward activism, the collection isolates the causes, mechanisms and responses to slavery that allow the phenomenon to endure. Enhancing scholarship in women's studies, sociology, criminology, law, social work and literary studies, the book establishes a common trajectory of vulnerability, enslavement, captivity, escape and recovery, creating an invaluable resource for activists, scholars, legislators and service providers.
"'Survivors of Slavery' invites the reader not only to consider the actual words on the page, but also to question context, voice and what is not being said," Sandra Morgan, director of the Global Center for Women and Justice at Vanguard University, said in praise of Murphy's new book.
The book is available online.