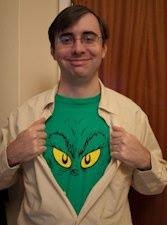 Kenneth Dyer (Classical Studies major, '05) is a technical writer at Avocet Editorial Consulting.  He has published an article in Linux Journal (2012) entitled "Basics of Web Design with Drupal 7".
Drupal is one of the most popular and versatile platforms for web design. This article provides an introduction for the non-programmer to the latest release of Drupal. It covers the basics of creating a data scheme, how to manipulate that data, and fundamental ways to display the data in Drupal 7. 
Among his many accomplishments, he has written and developed documentation for MySQL and related database technologies, including Galera Cluster, TokuDB and TokuMX, and FlyData for Amazon Redshift. In addition, he has focused on editing and revising exiting material, documenting new features, and web development, and worked in DocBook XML and reST in Sphinx, managing files through Github.
Kenneth designed and developed a build system to generate and update the website and white papers from DocBook XML source.  He has prepared getting started guides for Drupal Gardens, Acquia Insight and Acquia SEO Grader.