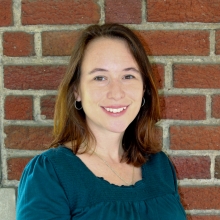 Anna S. Duggar currently serves as the Director of the Forensic Chemistry program in the Department of Chemistry, and is responsible for advising Forensic Chemistry interns and research students. She began working with the Department of Chemistry in 2004 as adjunct faculty, re-designing and teaching the "Introduction to Forensic Methods" course.
She is a native of New Orleans and a graduate of Benjamin Franklin High School. Before coming to Loyola, she taught at the University of West Florida, at Tulane University, and at Tulane University City College. She has also been an instructor with a number of different law enforcement agencies and police academies.
Ms. Duggar worked as Director of the New Orleans Police Department Crime Laboratory from 2006 through 2010. She has worked as a forensic analyst since 2000, first with Office of Chief Medical Examiner, New York City; then in Pensacola, FL, with Florida Department of Law Enforcement; then with New Orleans Police Department Crime Lab and St. Tammany Parish Sheriff's Office Crime Lab. She has performed analyses in the disciplines of bloodspatter pattern analysis, serology, fingerprint development/comparison, crime scene analysis, and gunshot residue analysis. This casework has led to the provision of courtroom testimony in Criminal District Court in Orleans Parish, St. Tammany Parish, and the Eastern District of Louisiana.
She is the recipient of letters and commendations from New Orleans Police Department, the Orleans Parish District Attorney's Office, and the US Attorney's Office for the Eastern District of Louisiana.
Ms. Duggar has presented research in bloodspatter pattern analysis and the application of science to crime scene practice at national meetings of the American Academy of Forensic Sciences.
Her professional memberships include the American Academy of Forensic Sciences, the Southern Association of Forensic Scientists, the International Association for Identification, and the McCrone Research Institute Alumni Association. She has been certified as a POST-qualified instructor via the FBI-IDC program. She is a Diplomate of the American Board of Criminalistics.
Recent Publications
Anna S. Duggar, MS; Robert C. Shaler, PhD; and Peter R. DeForest, PhD. Identification of initial and secondary stains in overlapping bloodspatter patterns. Presentation made and abstract published in Proceedings of the Annual Meeting of the American Aca
Anna S. Duggar, MS; Rose Duryea, MA. "An evaluation of the trigonometric model for point of origin prediction in bloodspatter pattern analysis." Poster presentation made and abstract published in Proceedings of the Annual Meeting of the American Academy
Anna S. Duggar, MS; Rose Duryea, MA. "Fulfilling the role of the forensic scientist: the New Orleans Police Department as a case study and argument for greater emphasis on actualized science." Presentation made and abstract published in Proceedings of t
Degrees
M.S., John Jay College of Criminal Justice (City University of New York), 2000; B.A., Emory University, 1996